Based on the Primary Mortgage Market Survey from Freddie Mac, the average 30-year fixed-rate mortgage has increased by 1.2% (3.22% to 4.42%) since January of this year. The rate jumped by more than a quarter of a point from just a week ago. Here is a visual to show how mortgage rate movement throughout 2021 was steady compared to the rapid increase in mortgage rates this year: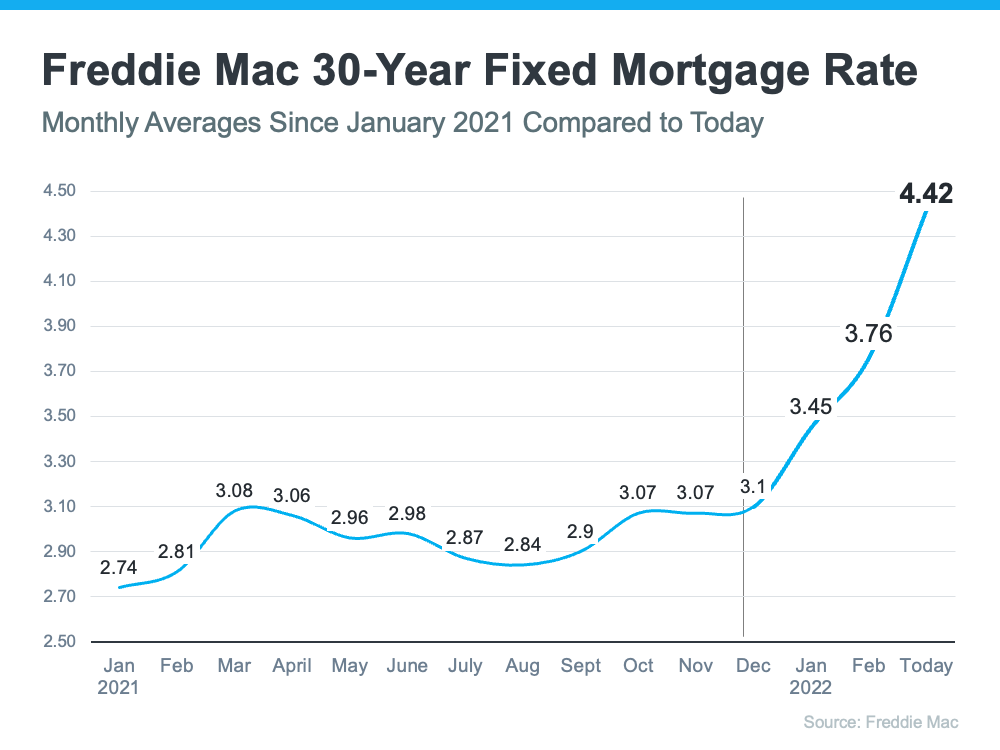 Just a few months ago, Freddie Mac projected mortgage rates would average 3.6% in 2022. Earlier this month, Fannie Mae forecast mortgage rates would average 3.8% in 2022. As the chart above shows, rates have already surpassed those projections.
Sam Khater, Chief Economist at Freddie Mac, explained in a press release last week:
"This week, the 30-year fixed-rate mortgage increased by more than a quarter of a percent as mortgage rates across all loan types continued to move up. Rising inflation, escalating geopolitical uncertainty and the Federal Reserve's actions are driving rates higher and weakening consumers' purchasing power."
In a recent article by Bankrate, several industry experts weighed in on where rates might be headed going forward. Here are some of their forecasts:
Greg McBride, Chief Financial Analyst, Bankrate:
"With inflation figures continuing to surprise to the upside, mortgage rates will remain above 4.0% on the 30-year fixed."
Len Kiefer, Deputy Chief Economist, Freddie Mac:
"Mortgage rates are likely to continue to move higher throughout the balance of 2022, although the pace of rate increases is likely to moderate."
What Does This Mean for You if You're Looking To Buy or Sell a Home?
With both mortgage rates and home values expected to increase throughout the year, it would be better to buy sooner rather than later if you are able. That is because it will cost you more the longer you wait. Of course, with the recent rate increases the metrics of buying have undergone changes.
Grays Harbor's Oly Pen Real Estate Designated Broker, Jason Atwood explains:
It is important that prospective buyers, when searching for homes at the top of their budget, realize there is a possibility new rate increases could bump their monthly payments for homes that were affordable prior to the rate increase. I would encourage them to remember to leave a buffer on their debt-to-income ratios to account for any potential rate increases.
Jason is correct when encouraging perspective buyers to be aware of the potential impact of rate increases. Jason points out that those looking to enter the seller market need to be equally aware.
"If you are looking to sell in today's market you need to be aware that these rate increases are causing some buyers to lose purchase power. If rates increase in the middle of the purchase and sale process it could lead to the transaction failing. This is certainly something we should want to avoid. Should you have questions or concerns about this and other potential complications, I suggest you talk with an experienced professional."
In Closing
Paying a higher price for a home and a higher mortgage rate can be a difficult pill to swallow. However, waiting will just cost you more. If you are ready, willing, and able to buy a home, now will be a better time than a year, or even six months from now. Let's connect to begin the process today.
Oly Pen Real Estate has a team of trusted real estate professionals to help you navigate changes in our industry. We have a watchful eye on Grays Harbor market so give your Oly Pen Real Estate Team a call today at 360.249.8187 or stop by our office 141 S. Main Street in friendly Montesano, WA and discuss your expectations today!